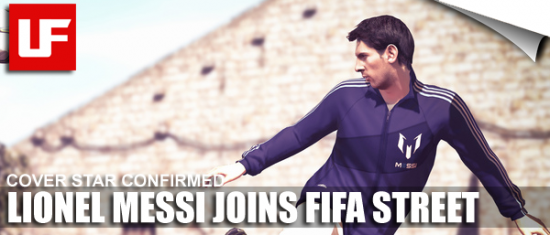 Barcelona's Lionel Messi has been confirmed as the cover star of the massively anticipated FIFA Street.
"The greatest player in the world has joined the greatest football game in the world – and is taking it to the streets!"
We kind of told you about this a couple of days ago with our exclusive depixalisation techniques but now it's official!
Ok, he's got darting runs, incredible close control and the ability to coast past players as if they're not even there but Lionel Messi's not renowned for his showboating which FIFA Street is all about.  Maybe someone more like Robinho, Neymar, Phil Neville, Nani or even Christian Ronaldo might be a better suit…?
But we fully understand why EA have chosen him – he's the fricking best player in the world for heavens sake!
One things for sure, this is awesome news for those of us already excited about the release of this title.  The fact that EA have gone all guns blazing with someone as high profile as Messi (can you get any more high profile) means that they mean business with FIFA Street.
This isn't just going to be a FIFA series add-on.  This is going to be a HUGE franchise all of it's own and with the co-operation of it's rather large expected community could be one to rival it's 11-a-side sibling.  If you're in any doubt read Dave Bryant's (FIFASoccerBlog) article, Analysing the Messi Factor for a great take on how much of a signal of intent this is from EA SPORTS.
So, what do you think about Messi being on the cover of FIFA Street?  Good choice or can you think of anyone better?
For more information about Messi and FIFA Street you can check out the latest Podcast.