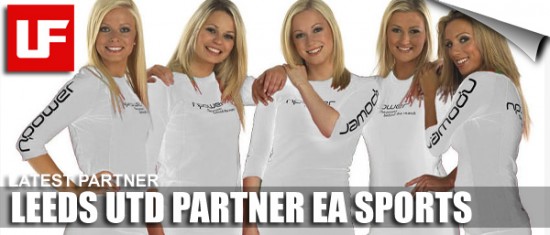 Leeds United are the fourth club to partner EA this season alongside Manchester City, Derby County and Fulham.
In a deal thats….. yadda, yadda, yadda…  Ok, you've heard it all before.  Leeds are pretty much getting the same deal as the last three Partnership posts you read.
We've used the NPower girls in our featured image for this one so if you've heard it all before at least you've got something nice to look at (the NPower girls usually travel to grounds across the country wearing blue but got themselves a one off white kit for their trip to Elland Road)
If you haven't heard it all before then here you go:
Leeds United and EA Partnership Features
EA SPORTS will be producing a Leeds United specific FIFA 12 game sleeve featuring its star players, which fans will be able to download for free from the club website www.leedsunited.comaround the launch of FIFA 12.
A bespoke EA SPORTS FIFA gaming trailer will be attending selected home fixtures throughout the season at Elland Road, so everyone can try out the game and play as their favourite team.
EA SPORTS will also be hosting a Pro Player Tournament at the training ground using the EA SPORTS FIFA gaming trailer to determine which Leeds United player is the best FIFA 12 gamer.
EA SPORTS FIFA 12 will also be visible on matchdays throughout the season via perimeter boards and will be active across the Leeds United official digital channels and the Club's own Yorkshire Radio station.
Shaun Harvey, CEO at Leeds United, said:
"The reputation of EA SPORTS is unparalleled within the video gaming industry and we are delighted we have completed a new agreement with Electronic Arts.The fact that a globally recognized brand of EA's calibre has joined our growing stable of valued commercial partners, shows a clear indication of Leeds United's growth and our exciting plans for the future."
Nick Harford, Football Business Lead at EA SPORTS said:
"We are delighted to be partnering with Leeds United Football Club and look forward to giving both the Club's passionate fans and its players some unforgettable FIFA 12 gaming experiences."
We're thinking of making a list of teams that aren't going to partner EA this season… 😉