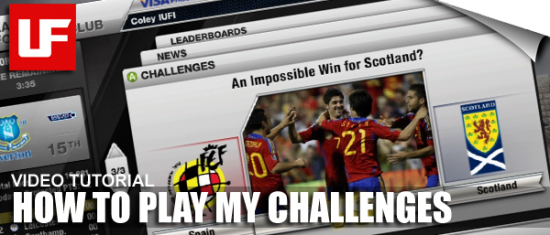 Every time we feature a FIFA 12 My Challenge on UltimateFIFA.com we get loads of e-mails and tweets asking, "How do I play My Challenges???".
For some reason people couldn't find the menu option.
So I put this tutorial together to show people how to find FIFA 12 My Challenges and whilst doing so I think I found the reason why a lot of people where having trouble.
The menu option isn't there all of the time…
My Challenges are found in the EA SPORTS Football Club along with news about your friends and friends' leaderboards.  EA SPORTS Football Club is accessed using the "BACK" button on Xbox and the "SELECT" button on PS3.
If the option isn't there just go back into the Arena and then back to the menus until it appears.
My Challenges are a great way to earn XP in FIFA 12 and help your clubs climb up the EA SPORTS Football Club Leaderboards.