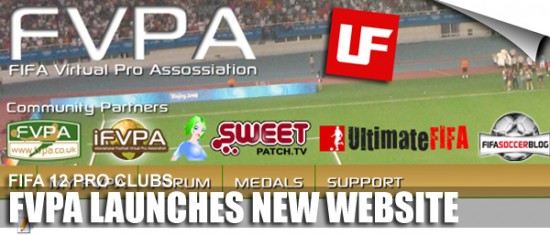 Great news for Pro Clubs as the FVPA launch their new community website.  With Pro Clubs features thin on the ground for FIFA 12 this will be the biggest thing to hit the Virtual Pro scene this year.
"We have been working hard behind the scenes over the past 3 months to bring you more. Starting with the front page magazine style layout designed to be more intuitive and packed with easy to navigate information."
Just a few of the new Website Features:
My FVPA (Bespoke Clubs/VP Module)*
Enhanced news article layout
News ticker bar Instant access to the latest forum posts
Socially integrated with Twitter and Facebook
Latest real football news
 My FVPA (Bespoke Clubs/VP Module in Beta)*
 The FVPA has invested heavily in time and money to bring a bespoke module managing the way we interact with our Virtual Pro's and Clubs throughout the various Competitions and Tournaments that are hosted here.
As an FVPA Virtual Pro you can track your own stats, games played, goals scored, assists etc – set yourself up as signed or as a free agent and your primary position etc ready for the My FVPA player database.
As a Club Manager you can create a Club with your own dedicated page to show off your Clubs stats, games played, wins, draws, losses. Assign players to your primary squad in addition to having different squad lists for specific tournaments. Squad lists for tournaments can be locked by the FVPA staff!
The new My FVPA (Bespoke Clubs/VP Module is still in testing phase at present but with the lack of additions to FIFA 12 Clubs I think this is one of the most exciting features to hit the Virtual Pro scene this year!
The new site launches alongside the announcement of a new partnership with FIFA Soccer Blog.
The guys also landed an exclusive interview with Garreth Reeder (FIFA 12 Online Producer) which is a must read for all Pro Clubs fans!!!
Great work guys!
(What are you doing still reading???  Get over there now!)