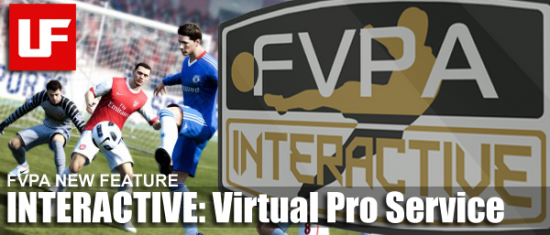 The FVPA have launched FVPA Interactive; a brilliant online, interactive Pro Clubs matchmaking application that brings together Virtual Pros looking to play now with Pro Clubs with spaces to fill.
FIFA Pro Clubs is arguably the most authentic, complete football mode that FIFA (or any other virtual football game for that matter) has to offer.  There's nothing more rewarding in FIFA than playing well in a club with 10 other players who are all singing from the same hymn sheet.
On the other hand, there's nothing more frustrating than subjecting your poor virtual pro to a Pro Ranked match with 10 other players that all think they're strikers and have no idea where the pass button is!  I'll be honest, I'd rather be a Blackburn Rovers accountant than play a Pro Ranked match.
So, if I fancy a blast but my club isn't playing or I'm a free agent with a few hours to kill, what are my options?
Play a Pro Ranked match, shout at the 5ft 3″ CB doing rainbow flicks and end up throwing my controller out of the window.
Visit FVPA Interactive, fill out a request and fill in for an organised team of good FIFA Pro Clubs players.
Hmm, let me think…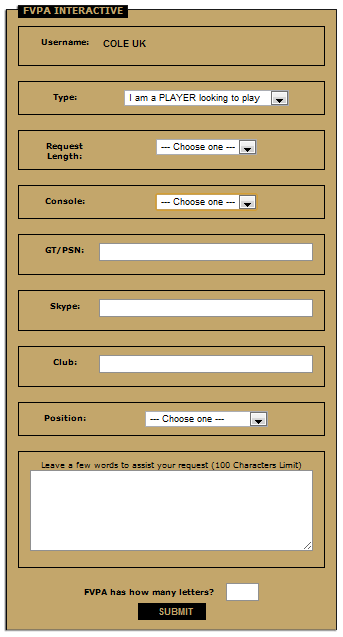 The benefits of FVPA Interactive for Virtual Pro's is obvious but it is also a great resource for Pro Clubs with positions available.
The advantage of having a team of 11 controlled players is often underestimated but it really does make a big difference!
Let's face it, nobody really wants to play ANY but at the same time nobody wants an AI controlled 78 rated left back that will be exploited by any good team.
How does FVPA Interactive Work?
Players or managers can submit a request to say that they're looking for a club / player.
FVPA says,
"Each request lasts for 30 minutes, 1hr or 2hrs, Once a request is fulfilled you can remove it yourself or let it expire, if it expires and you haven't received a response then simply create a new request.
To respond to a request, contact the Player/Manager via your console – Alternatively clicking their username will take you directly to a new PM."
Put as much detail as you can in the form (100 charactors max).  This is your chance to sell yourself or your club.  Remember, you're going to want to stand out from the crowd.
The FVPA is the UK's biggest Pro Clubs Community with players and clubs of all standards.
Please take a few minutes to complete this Christmas FIFA Community Survey from EA SPORTS. It's your chance to make a difference in the community and it only takes a few minutes!  (Don't forget to fill in your favourite *ahem* community site…)