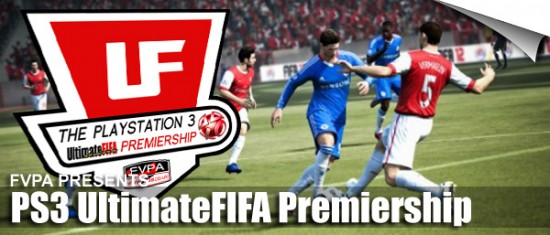 UltimateFIFA are delighted to announce the PS3 UltimateFIFA Premiership.  The second season of the BEST Pro Clubs League in the world brought to you by our Partners the FIFA Virtual Pro Association (FVPA) is now open for applications!
Here at UltimateFIFA.com we've always been huge fans of Pro Clubs and active members of the FVPA and we're proud to be involved with the second season of the PS3 Pro Clubs League, The UltimateFIFA Premiership.
The FVPA are accepting applications for the league until October 15th and participating Clubs have the chance to qualify for the iFVPA CCL, an International Champions League format competition giving you the chance to pit you wits against some of the best Pro Clubs in the world and stake your place as one of the Top Teams on the World Stage!
The FVPA is the leading Pro Clubs Community and the developments this year and huge future plans make it a really exciting place to be and a must for any Pro Clubs fan.
From the FVPA Announcement (you can read the whole announcement here):
"FVPA are pleased to announce details regarding [PS3] FVPA Leagues Season 2: as you'll notice we have changed the league name in honour of UltimateFIFA, they work incredibly hard and seek to contribute to the FIFA Community as a whole.

We are also working hard in the background regarding…  iFVPA CCL bringing together global community FIFA Sites, Clubs will qualify by league positions.  This is a exciting new venture and one we are looking forward to providing you guys with and a chance for you to pit your skills against the top Clubs around the globe.

New Features

New Results & Stats System
iFVPA CCL
News Features on UltimateFIFA

*FVPA Kelley is looking into prizes for Season 3

*Season 2 Leagues rules will apply and altered regarding new issues that arise in FIFA12″
UltimateFIFA Premiership Applications
Remember, if you want your club to be involved make sure you apply here before the 15th October!