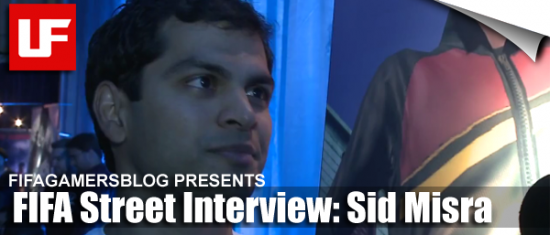 Our friends across The Channel at FIFAGamersBlog have had infiltrated EA's offices again to bring us another great interview.  This time they collared FIFA Street Lead Producer, Sid Misra for the inside scoop on his upcoming street football simulation.
The following is the English version of the FIFAGamersBlog interview.
Sid Misra Interview
FGB: Hi Mr. Sid Misra, you are the lead producer on the next installment of FIFA Street. How did you approach the project?
Sid Misra: Before even starting on the project, we did a lot of research about what our fans were looking for in an different football product – the answer we got was that there was still a strong appetite for a street football game that was authentic and embraced the level of quality expected of our FIFA series.
The next step was then to better understand what "authentic street football" really meant.  For this we did research in London, Amsterdam and Rio to understand what street football meant in those regions, and discovered they meant very different things. So right away we knew that if we wanted to be an authentic street football game, the first thing would be to ensure the game allowed for varying styles of play.
FGB: Based on some of your recent interviews, it seems there is much in common with FIFA 12…correct?
Sid Misra: Yes and no.  One of the reasons we felt that previous FIFA Street iterations missed the mark on quality was because it lacked the feel of proper football.  FIFA Street, for the first time, will be built by the FIFA development team and using the award-winning FIFA gameplay engine.  Most of the team comes from FIFA and understands what it means to deliver a quality football gaming experience – including Gary Paterson, our Creative Director who was the Creative Director for FIFA gameplay for years.  The FIFA gameplay engine allows us to worry less about the fundamentals of football, and more about what will make this game 'street'.
That said, while we have taken the FIFA engine as a platform, we have had to make significant changes to make FIFA Street.  As soon as you step on the pitch you will notice the differences.  Both offense and defense player movement and dribble have been changed to better support head-to-head street football gameplay. We have implemented a new core dribble mechanic we are calling Street Ball Control – it's a new and innovative control scheme, and the first true control innovation in this console cycle.  The game supports more skills than ever before with very accessible air moves and tricks.  Attack, defense, goalkeeping, positioning, shooting, passing – all areas of gameplay have been addressed to create a great street football game.
FGB: There will be many new dribbles and skill moves in the game. Were they picked up by Kantcho Doskov during motion capture sessions?
Sid Misra: Kantcho has some amazing skill moves and is one of the best freestylers in Canada, but we didn't actually do the mocap with him. We did bring in some of the top street players in the world, including Sean and Soufiane Bencok, to do motion capture at our studio. It was totally to see the amazing the tricks and skills moves they could do, and we got the opportunity to put those amazing moves directly into the game.
FGB: Clubs represented are mostly partners of EA SPORTS, how many players were selected by team?
Sid Misra: Actually, we have many teams in the game that cover our most popular clubs, national sides, and other teams from across Europe. We selected the top 13 players from each side (including one goalkeeper) that we thought would best represent the skills and style within the world of street football.
FGB: A subject to which fans attach some importance is the likeness of their favorite players in the game. We will have the new pro faces modeled in FIFA Street?
Sid Misra: That's one of the benefits of using FIFA technology is that we can use the high quality player heads and models that are in the FIFA console game. That includes players from top clubs like Chelsea or Manchester City that we've done the 3D head scans for the team.  And, of course, to coincide with the announcement that Leo Messi has joined the FIFA team and him being featured on the cover of FIFA Street, we have a brand new Messi head too along with the numerous others that are in FIFA12.
FGB: Has producer Simon Humber participated in the FIFA Street Career Mode and can you say more about this mode?
Sid Misra: When FIFA Street kicked off, Simon was (and still is) pretty busy on developing Career Mode for the FIFA series, so his focus was directed elsewhere.  Gary Paterson has owned the overall creative direction for FIFA Street, including the FIFA Street World Tour.  A great team of developers and producers/designers have been working on the execution of the vision.  We certainly reach out to other senior production and design leaders at EA to help test and validate design, as well as extensively play-test our game internally and externally.  The feedback has been quite positive thus far!
FGB: Thanks for all the information Mr. Misra, the French fans will be following all the information coming soon from FIFA Street!
Sid Misra: Thanks FGB! We're excited about what we're developing on FIFA Street and can't wait for our fans to get their hands on it in March.
David Rutter Interview
We'd just like to thank FIFA GamersBlog for another great interview.  Check out their site if you haven't already and you can read their interview with David Rutter here.