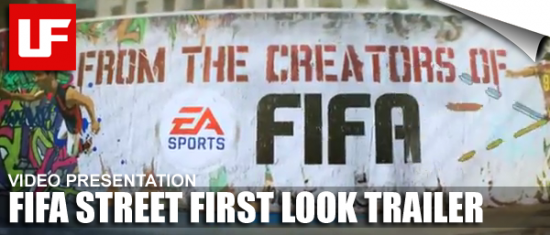 A new FIFA Street trailer has been released in Germany telling us more about the environment, dribbling, the cities represented and the clubs involved.
Some of the cities you can visit in FIFA Street include:
Paris,
Marseille,
Berlin,
Munich,
London,
Barcelona, ??
Tokyo,
Amsterdam,
St. Petersburg,
Dubrovnik,
Rio,
Dubai,
Shanghai,
Buenos Aires
New York.
And you can play with some players from the following clubs:
Arsenal,
Aston Villa,
Chelsea,
Manchester United,
Manchester City,
Athletico Madrid,
Barcelona, ??
Sevilla, 
Real Madrid,
Valencia,
Inter Milan,
Juventus,
AC Milan,
Naples,
Borussia Dortmund,
FC Cologne,
Lyon,
PSG,
Marseille,
Bordeaux,
LA Galaxy
Whitecaps.
We're guessing the UK version will be released in the next day or so…
Good skills to our French friends, FIFAGamersBlog for discovering this one.