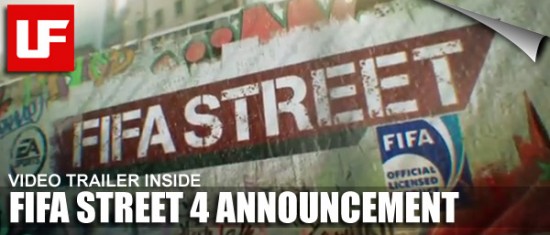 A surprising announcement during EA's press conference at Gamescom was the intention to release FIFA Street 4.
The game, now being developed by EA SPORTS'  (including FIFA 11's Creative Director Gary Patterson), is having a complete revamp and should look and feel completely different from the rest of the series.
EA SPORTS FIFA Producer, Sid Misra, (who seems to be the main voice on FIFA STREET 4) said on Twitter,

This is great news.  I've never been a fan of the FIFA Street series.  They've always been too "cartoony" and "gimmicky" and as a true football fan I found myself turned off by all of the unrealistic elements to the games.
With Gary Patterson on board though there will be a HUGE emphasis on authenticity and I can honestly say I'm actually really excited about FIFA STREET 4!
Romily Broad also seemed to hint that there may even be scope for FIFA STREET Clubs.  (Despite this being pure speculation at this time – HOW COOL WOULD THAT BE!?!)
Get set to hear a whole lot more about FIFA STREET 4 after the release of FIFA 12 at the end of September!
I can certainly see this quickly becoming the YouTube vid kids title of choice.
Take a look at the trailer below.
FIFA STREET 4 is expected to be released during Q1 2012.