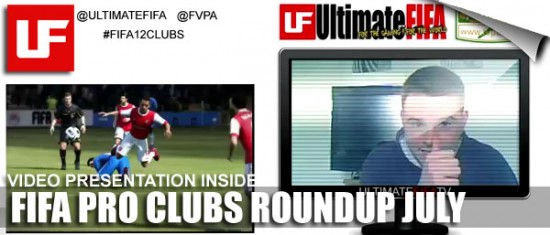 It's been a while since I produced my last insight into the world of FIFA Pro Clubs so I thought I'd experiment with something new…
In the video I cover some of the things I took away from my trip to EA, Guildford and how I think gameplay will effect FIFA 12 Pro Clubs.
Keep up to date with the iFVPA, what the Pro Clubs National teams are up to and details of changes to the FVPA that will revolutionise your Pros and Clubs presence online.
Anyway, check out the video and let me know what you think!
[Watch in HD (actually probably best not with this one… :D)]
Special thanks to MattHDGamer for the FIFA 12 screenshot slideshow.  Check out his FIFA 12 Screenshot commentary here (It's hilarious!!!)
The Links from the video:
===========================================================
UltimateFIFA
http://www.facebook.com/pages/UltimateFIFA/158248597529205
http://www.twitter.com/ultimatefifa
===========================================================
FIFA Virtual Pro Association
===========================================================
International FIFA Virtual Pro Association
===========================================================
FIFA Virtual Pro Association of America