At 5pm yesterday, literally gazillions of you leapt onto your computers and flocked to the FIFA 12 Ultimate Team Web App causing huge server meltdowns across the whole of Canada!*
*Well… Maybe not that extreme but shed loads of you tried to access the FIFA 12 Web App and it broke… ;))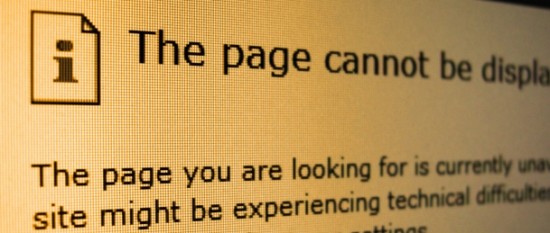 When Will the FIFA 12 Ultimate Team Web App Be Available?
EA have had the nerd squad working through the night to get the web app back up online but the latest to come from the EA team is that it's unlikely to be back online before 5pm today…
"Unfortunately it will take us at least another half a day to get FUT Web live.  ETA very TBC, but earliest late afternoon GMT tomorrow"

"To confirm: Returning FUT gamers will get their free packs whenever they log in, any time."
[EDIT: Official ETA has moved from "late afternoon" to "this evening" (UK time).  Still vague I'm afraid but we'll update when we get some more nailed on info]
[Edit 2: Web App is up and running but might have a few bugs – let us know how you get on!]
I know some of you feel aggrieved at losing one free daily gift but look at it relatively; everybody lost one so you're still on a level playing field with everyone else…
So What's The Issue?
The reason the FUT12 Web App is down is to do with User Authentication issues on the site and not specifically the web app itself.
Although it's encouraging to know that our precious Web App is doing fine, it's not really any consolation to us eager beavers who are itching to start rebuilding our squads.
Could it have been prevented?  Probably, but that's the great thing about hindsight.  It easy to put preventative measures in place if you know what to expect.
I'm under no illusion that EA weren't expecting a HUGE spike in traffic at 5pm yesterday and I'm sure they'll have had all sorts of controls in place to prepare for it.  So the user authentication issue must have been outside their contingency remit.
I'm sure the sheer volumes of visitors to the FUT 12 Web App didn't help but surely this was expected and prepared for.
We can rest assured that with Ultimate Team being the cash cow that it is EA will be throwing every available resource at getting the Web App online.
What's the Answer?
Like the online gameplay servers from last year, it's impossible to create a test environment with the extreme numbers of users that are involved once the game (or in this case the Web App) goes live.
FIFA 13 Beta?
Why don't EA introduce invitational Beta versions of online applications and gameplay?  That way they can control user numbers and phase in projects of this scale.
Lot's of other games are doing it these days and the benefits are twofold:
Beta Versions create HUGE hype and can be used to aid marketing campaigns (not that EA need any help in the marketing department…)
EA get a test bed closer to what will be used when the game comes to full release and hopefully all of these "creases" will be ironed out by the date of the full launch saving EA no end of reputational damage.
Anyway, always one to look on the bright side, hopefully the problems EA are having with the Ultimate Team Web App will serve as a wake up call making them extra vigilant when the game releases at the end of this month.
If you want a sneak preview you can check out FIFA 12 Ultimate Team Player Ratings, FIFA 12 Ultimate Team Manager Ratings, FIFA 12 Ultimate Team Stadium Stats and FIFA 12 Ultimate Team Tournaments.
You can also check out our FIFA 12 Ultimate Team Chemistry Guide.
At the risk of leaving this wide open, what do you think EA could do to improve testing and the way it rolls out its services?