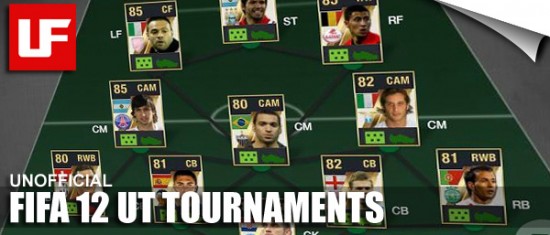 As you may be aware by now there are a number of leaked documents doing the rounds regarding FIFA 12 Ultimate Team including player stats, manager stats etc.  The documents haven't come from the usual reliable channels and EA haven"t confirmed if they're accurate but we'll put them up for you to take a look at and see what you think starting with Ultimate Team Tournaments.
Remember though that even if the info has come from EA (especially the demo) it's still all subject to change by the time the final version is released…
You can also check out the FIFA 12 Ultimate Team Player Ratings, FIFA 12 Ultimate Team Stadium Stats, FIFA 12 Ultimate Team Manager Ratings, FIFA 12 Matchballs and FIFA 12 Ultimate Team Card Designs.
FIFA 12 Ultimate Team Tournaments
GamesCom Invitational
Inter City Cup
Federation Trophy
Tournament of Nations
Copa del Rio
Ultimate Team Shield
Bronze Star Shield
Silver Regionals
Advanced Cup
Bronze Regionals
Kick Off Challenge
Tri Nations Tournament
Highlands Challenge
Youth Challenge Trophy
Silver Journeymen Cup
Bronze International Trophy
Club Trophy
Lower League Open
Underdogs Cup
Reserves Invitational
Cup of Nations
Platinum Multinational Trophy
Gold Regional Cup
Five Star Open
All Star Challenge