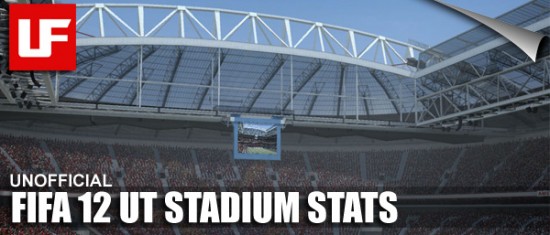 Below is the list of stadiums (or stadia if you'd rather) to be included in FIFA 12 Ultimate Team including their rating, capacity and the boost they'll give your Ultimate Team.  Again, I'll stress that these stats have come from the alleged 'leaked' information that's doing the rounds at the moment so they are speculation at this time.
Our friends at FIFASoccerBlog recently brought us the official FIFA 12 Stadium List so the best we can do at the moment is confirm that the Stadia are correct.
You can also check out the FIFA 12 Ultimate Team Player Ratings, FIFA 12 Ultimate Team Manager Ratings, FIFA 12 Ultimate Team Tournament List, FIFA 12 Matchballs andFIFA 12 Ultimate Team Card Designs.
Rating  Rare    Id      Name                            Cap     Boost
86      1       1       Old Trafford                    76200   8      
86      1       2       Santiago Bernabéu               80000   8              
86      1       4       Stade Gerland                   41050   8      
86      1       5       San Siro                        83000   8      
86      1       6       Camp Nou                        98750   8      
86      1       9       Signal Iduna Park               80500   8              
86      1       10      Estadio Mestalla                53500   8              
86      1       13      Anfield                         45400   8
86      1       14      Parc des Princes                48700   8              
86      1       15      Amsterdam ArenA                 51300   8      
64      1       26      Forest Park Stadium             28000   5              
86      1       28      Stamford Bridge                 42000   8      
86      1       29      Stade Velodrome                 60000   8      
86      1       30      Veltins-Arena                   61500   8      
64      0       32      Crown Lane                      26000   4      
74      0       33      Union Park Stadium              25000   5              
64      0       34      Town Park                       12000   4      
64      0       35      Euro Park                       15000   4      
86      1       41      Imtech Arena                    57250   8      
86      1       42      Estadio Vicente Calderon        54850   8                      
86      1       100     St James Park                   52350   8      
86      1       104     Estadio Azteca                  105000  8      
86      1       135     Olympiastadion                  74200   8      
86      1       137     Allianz Arena                   69900   8      
86      0       147     Stadion Europa                  52000   6      
74      0       149     Stade Kokoto                    35000   5      
64      0       153     Aloha Park                      10000   4      
86      1       155     Wembley Stadium                 90000   8      
86      1       156     Emirates Stadium                60350   8              
86      1       157     Stadio Olimpico                 72700   8      
86      0       158     Estadio de las Artes            50000   6              
86      0       174     Olimpico Arena                  62500   6      
64      0       175     Estadio del Pueblo              24000   4              
86      0       176     Century Park Arena              43000   6              
86      0       177     El Reducto                      37000   6      
64      1       178     Stadion Neder                   18500   5      
74      1       179     Stade Municipal                 26500   6      
74      0       180     Ivy Lane                        29000   5      
86      0       181     Estadio Latino                  75000   6      
64      0       182     Stadion 23. Maj                 22000   4      
74      1       183     El Medio                        30000   6      
86      0       192     El Bombastico                   57500   6      
74      0       193     Pratelstvi Arena                25500   5              
86      0       194     Eastpoint Arena                 54000   6      
86      0       195     Stadion Olympik                 70000   6      
86      0       196     Stadion Hanguk                  60000   6      
86      0       197     O Dromo                         55000   6
74      1       212     Estadio Presidente G.Lopes      27000   6                      
64      0       225     Akaaroa Stadium                 21000   4      
64      1       228     Court Lane                      22500   5      
64      1       229     Arena dOro                      20000   5      
86      1       246     Etihad Stadium                  47405   8      
86      1       247     Juventus Arena                  41000   8      
74      1       248     BC Place Stadium                20000   6              
74      0       249     British Modern                  20000   5