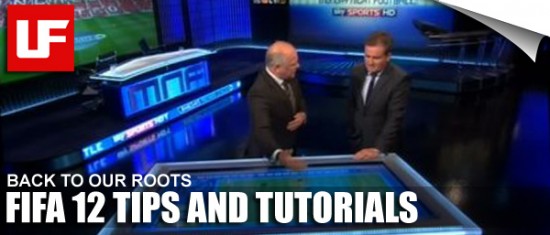 With the release of FIFA 12 imminent UltimateFIFA is going back to our roots to provide you with some of the best FIFA 12 tips and tutorials from around the community.
Working closely alongside some of best FIFA players in the game we'll be bringing you tutorials directly through the site and through our YouTube Channel so be sure to subscribe.
October, November and December will be absolutely mental months on YouTube with every man and dog clogging up your sub boxes with FIFA 12 tutorial video after video vying for your views.
Our team will be scouring through them all to make sure we bring you the very best tutorials that this great community has to offer to get your FIFA 12 campaign off to a flying start.
If you haven't already, make sure you subscribe by sticking your name and e-mail address in that box over on the right and we'll send all of these great FIFA 12 Tips and Tutorials direct to your inbox so that you won't miss a trick and stay ahead of the game!
FIFA 12 Tips
Here's a few tips for starters from playing an early build of FIFA 12 that you'll be able to try out once the Demo's released on 13th September:
Take your time:
With the removal of kamikaze defenders you're going to find you get a lot more time on the ball.  Don't rush your passing.  Really think about your build up play.
Don't dive in:
Now that you've got a specific tackle button tackling is all about timing.  If you dive in the tackle animation will leave you out of the game for a split second which is plenty of time for the attacker to skip past you.
Learn to shoot:
And learn to shoot fast!  Finesse shots aren't going to be as effective and goalkeeper AI will have evolved so what works in FIFA 11 isn't necessarily going to work in FIFA 12.  Goals win games guys so the quicker you learn how to finish the better.
Don't over use Contain:
Containing in FIFA 12 has it's uses but do not over use it.  If you continuously contain your opponent is going to have all the time in the world on the ball!  All contain does is track your opponents run at a set distance away.  You'll never put a foot in.
Also, whilst containing you'll never be close enough to put a tackle in.  In order to make the tackle you'll need to let go of the contain button, close in on your opponent and manually make a tackle.
I honestly don't think I'll use the contain function much.  Time will of course tell but I think I'll jockey my opponent manually which will give me a lot more control.  I can see me using secondary contain to cut out passing channels but that's about it…
Learn some skill moves:
With the introduction of the manual tackle button anything you can do to make your opponent mistime the tackle with give you the upper hand.  Even if you only have a couple of skill moves in your FIFA 12 repertoire as long as you're familiar with the timing of them it could give you a really big attacking advantage.
And here's a sneaky FIFA 12 Ultimate Team tip for PS3 users…
If you want to do this you're going to have to do it now to reap the benefits when FIFA 12 comes out…  Make a few more accounts on your PS3 now and make an Ultimate Team on FIFA 11 on each of them.
On each of these accounts you should get 2 free packs on FIFA 12 Ultimate Team because you had an Ultimate Team on FIFA 11.  The more accounts the more packs you get and the better chance of landing some good players on FIFA 12 Ultimate Team that you can go on to transfer into your main account.
So, don't forget.  To stay ahead of the game on FIFA 12 make sure you subscribe to get all of our tips and tutorials straight to your inbox!
As always, if there's something you want to know or you've got any tips of your own get in touch and let us know!
Here's to a successful and enjoyable FIFA 12!
[Edit: Now you browse all of our FIFA 12 Gameplay Tips and Tutorials]