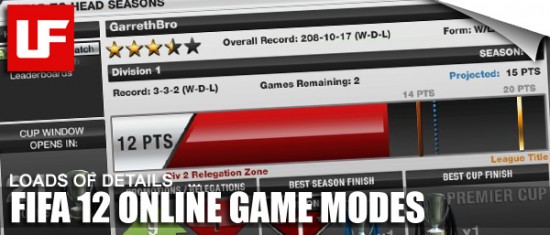 Article by FIFA 12 Producer Garreth Reeder on ea.com:
FIFA 12 is a massive year for online, and our goal of 'revolutionizing' the game has been truly realized. Let's get started!
HEAD TO HEAD SEASONS
The first big thing I want to talk about for online in FIFA 12 is 'Head to Head Seasons'.  Traditionally, all sports games offer ranked quick matches, where skill points are awarded and users are ranked on a leaderboard.  Outside of the top 100 users in the world, this type of online gameplay doesn't feel very persistent, fun, or football.  2010 FIFA World Cup made a strong effort to change this model, and now FIFA 12 has taken it to the next level.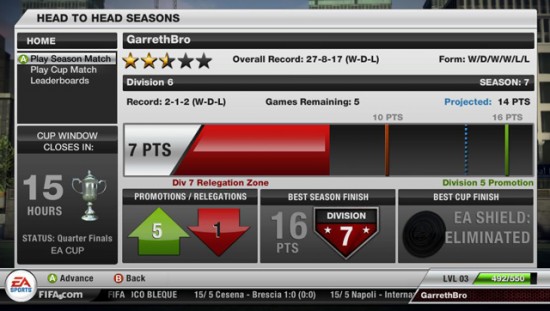 FIFA 12 Seasons
Head to Head Seasons focuses on you, your season, and your division.  There are 10 divisions to progress through, with 10 games per season to try to get promoted (and avoid relegation).  Points are simple: 3 points for a win, and 1 for a draw; every game without points hurts your campaign.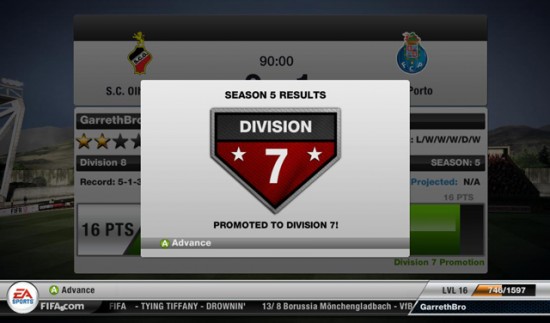 We've also made an effort to balance the path to Division 1.  In Division 10, where everyone starts out, you only need 12 points to be promoted to Division 9.  For many of you, this will only take four games, but as you move up, the promotion thresholds get tougher and tougher.  For the best of you that can reach Division 1, the goal is to win the 'League Title' and earn your trophy.  At points along your seasons, the commentators will even discuss your recent performances and your current campaign.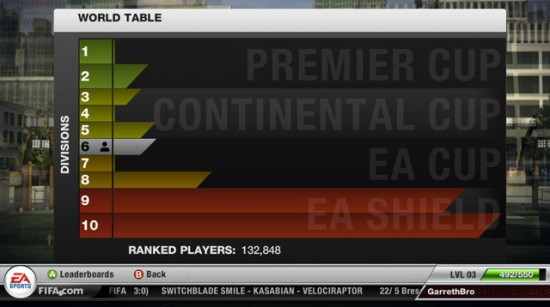 To see how your division placement compares to the entire FIFA community, check out our 'World Table' screen which shows how many people currently occupy each division. It's a great way to visualize your skill in FIFA in a way that a leaderboard rank just can't do.
FIFA 12 Flow
Creating this new mode gave us a chance to really revolutionize how you play online as well.
Traditionally, we find you an opponent and let you figure out the clubs you want to use, and then finally you adjust your lineup and tactics before the match starts. Of course this usually results in the '5-star dance' where even if you want to use Portsmouth, you are forced to pick Chelsea to battle on even ground with the inevitable Real or Barca selection from your opponent.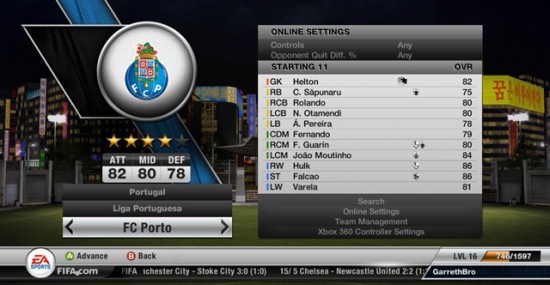 In FIFA 12 you pick your club, kit and lineup changes first before searching. For all you manual fiends out there, during pre-search you can also choose 'Any' or 'Manual' if you want to guarantee another manual user. When you choose to search, we take your Division, skill, location, controls, DNF % (essentially how often you 'rage quit'), and Club star level to find an ideal opponent and take you straight into a match. We even make sure you see the kit you chose and prevent kit clashing in the game. This means Mr. Humber can use his beloved Pompey in Seasons without fear of being crushed by a 5-star club, and instead focus on the Southamptons of the world.
FIFA 12 Cups
Similar to real life, Seasons features key cups with entry based on your division. There are four cups total, starting with the 'EA Shield' for the lower divisions, up to the 'Premier Cup' for Divisions 1 and 2. The cup window will open up every few weeks for a few days of frenzied action to determine who can earn silverware in four-round dynamic tournaments.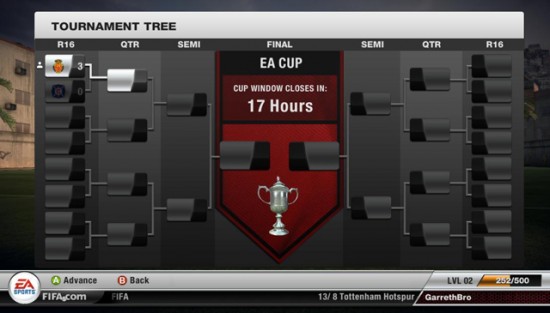 Your Season Hub will show you when the cup window is opening or closing, as well as your best cup finish and silverware. Of course we have full leaderboards to see the stats, trophies, and titles for you, your friends, and the top players in the world.
FIFA 12 ONLINE FRIENDLIES
Of course, despite the popularity of ranked play online, a big part of FIFA is playing friends. Personally, I had many 'friendlies' in FIFA 11 online that provided me some of my favorite moments with the game with nothing to show for it.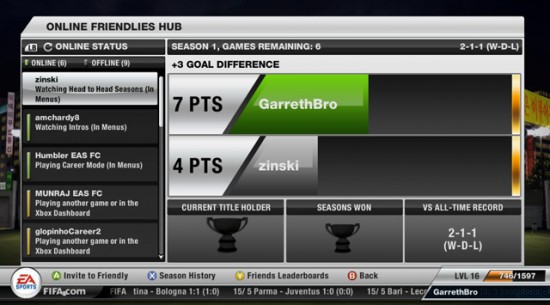 Not so in FIFA 12!  We had a simple concept: Provide a quick and easy way to play friends online, but track the results and make it feel like football.
In the Hub your friends list appears on the left.  Select a friend, choose your settings, and play.  The beauty of the mode is every game versus a friend becomes a season.  Similar to Head to Head Seasons, you have 10 games, with the goal of ending with more points than your friend.  If the points are tied in the 10th match, we even go down to the detail of goal difference to make the experience authentic. There is nothing quite like final win against a friend with your favorite club hoisting the trophy at the end of the match.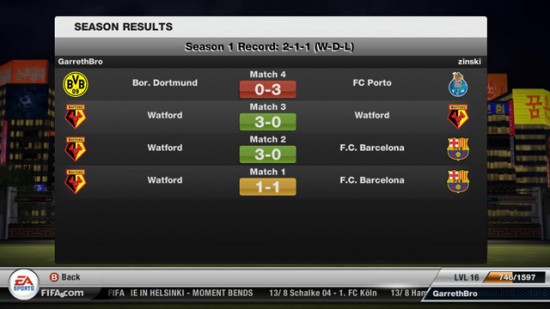 After a season, your next match automatically starts Season 2, so you can get started defending or retaining the trophy. The commentary team even talk about the status of your season to make it feel even more real and authentic. Play as many friends as you want, as many times as you want, and easily see the status of all your seasons in the Hub and leaderboards. Since these are matches between friends, it's up to you what clubs, rosters, and settings you use (even Creation Centre teams).
FIFA 12 PRO CLUBS
With such a big focus on making two new modes in Head to Head Seasons and Online Friendlies, we made a conscious decision to avoid major feature work in Pro Clubs and instead focus on bug fixes, tuning, and testing.
The incredible popularity of FIFA 11 and the complexity of Online Team Play at times made for a difficult year, and for FIFA 12 the efforts we've made to Clubs –both in the game and on the servers – should make for a much better experience all around. Stability and exploits are a key focus for us so that games are an enjoyable experience and fair for all involved. Secondly, we worked with a few members of the community on 'little things' like bugs and Virtual Pro accomplishments and unlocks that I think you will notice.
We hope you enjoy FIFA 12 online, whether it is climbing divisions, beating your mates, or growing your Pro online with your Club.
Amazing scenes await!