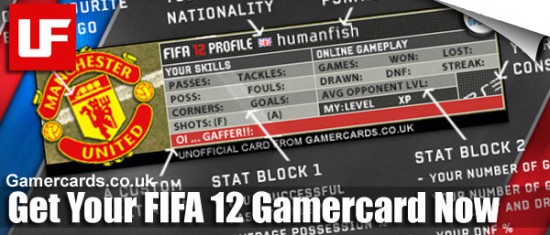 After proudly displaying my FIFA 10 statistics in my signature on the EA (and other) forums I was sad to see that the guys at Gamercards.co.uk didn't manage to make an unofficial Stat Card for FIFA 11 despite us announcing that one was in the pipeline way back in April.
Well, imagine our delight when the guys contacted me on Twitter to let me know that they were working hard behind the scenes to provide us with a FIFA 12 version of their popular Statistic Card.
The cards work for both Playstation Network and Xbox LIVE users and come in 2 designs, a "fatty" card and a "thinny" card.
FIFA 12 Gamercard Thinny
The "Thinny" card displays you vital Head to Head stats:  Games Played, Wins, Losses, Draws, Possession and Average Opponent Level.

FIFA 12 Gamercard Fatty
The "Fatty" card shows the whole shabang; Games Played, Wins, Losses, Draws, Possession and Average Opponent Level, Your Level, Your XP, Passes, Tackles, Possession, Fouls, Corners, Goals and Shots For and Against.
That's a whole lot of stats crammed into one card!
The "Fatty" Gamercard also let's you add your favourite clubs badge and a line of Custom Text.

Once you've created your card you're presented with some BB Code (which works on the EA Forums and other forums) and some HTML Code (which works on the Official PlayStation Forums) and other websites.
All you need to do is copy and paste the code into your forum signature and you can proudly show off your FIFA 12 Head to Head statistics to all your friends (and rivals).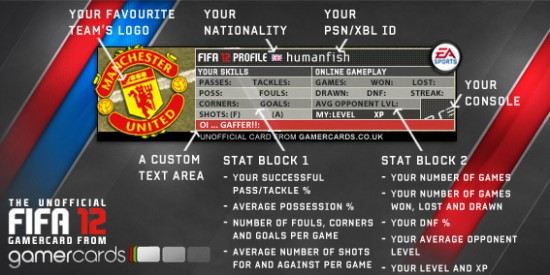 Gamercards Auto Update
The best thing about the FIFA 12 Gamercards are that they update automatically as you play.  You must register with Gamercards.co.uk to enable this feature however if you'd rather not register you can still display the Gamercard as a snapshot of when you made it.
Also, planned for the future are Gran Turismo 5 and Battlefield 3 Gamercards!
So what are you waiting for?  Head over the Gamercards.co.uk and get yours now!
Founder of UltimateFIFA.com, Evertonian *groan*, entrepreneur. I'm a Chartered Member of the Chartered Institute for Securities and Investment which I put to good use in the Ultimate Team market. ;)