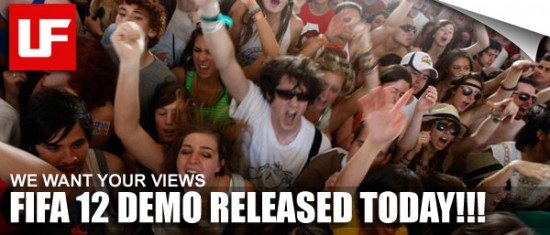 The time is finally here! You can finally get your hands on the demo of FIFA 12, cast aside everything you've seen and read and judge EA's award winning game for yourself.
I can't wait to hear what you think about it (especially the big change in tactical defending and the new impact engine!) so make sure you drop me an e-mail, leave a comment or tweet me your take on the demo once you've tried it. (Good or Bad!!!)
What do you like, what do you dislike?  What's improved, what needs improvement?
I'll be publishing your views on the demo here on UltimateFIFA.com so be as brutally honest as you like. 😉
The FIFA 12 demo is being rolled out from 10am this morning worldwide on Xbox 360, PC and for PS3 users in North America.
Unfortunately PS3 users across Europe will have to wait until tomorrow.