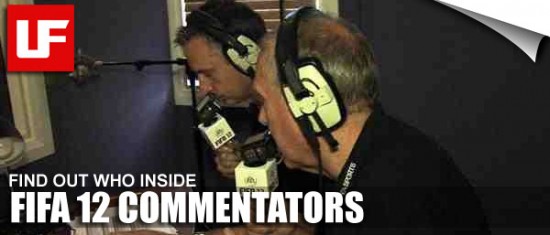 After the departure of Andy Gray as commentator for the FIFA series there was a lot of speculation as to who'd be the commentators on the upcoming FIFA 12.
Well speculation over, EA have announced that the English FIFA 12 commentators will be:
Martin Tyler and Alan Smith
Taken from the EA Website:
David Rutter, Senior Producer of FIFA 12:

"Alan will bring a fresh, new perspective and insight to FIFA 12, working alongside the trusted and well-known voice of Martin Tyler.  As one of the top-tier broadcasters in the UK, he brings enormous knowledge and expert analysis to the game so that we can deliver the most authentic FIFA experience this year."

Alan Smith, Well-respected broadcaster and former England forward:

"The natural chemistry that Martin and I have developed working live matches for TV has transferred very well to the virtual broadcast booth.  I'm really looking forward to FIFA fans hearing our work this fall as we bring all the match day emotion and excitement to this year's game."
You can hear Martin Tyler and Alan Smith in action introducing themselves here:
EA have also revealed that FIFA 12 will feature a second commentary team featuring Clive Tyldesley and Andy Townsend and over 10,000 lines of commentary.
EA say that Clive Tyldesley and Andy Townsend will call tournament matches, giving these games a real-world broadcast feel and sound.
A nice touch this year is that we will be able to customise our commentary, choosing our preferred commentators for any matches which should keep the commentary fresh and new all year round.