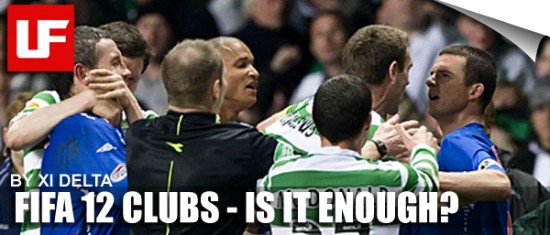 When I decided to do a write up on Pro Clubs for Fifa 12 before Gamescom; I was excited.
After quite literally no information on the mode before the convention – I was eagerly anticipating some compelling news on new features, cutting-edge changes and vast improvements.
Sadly, to my dismay, this never materialised.
FIFA 12 Clubs at Gamescom
Since EA took the stage on Tuesday, information has trickled through via different sources.  The way in which the news has came through, not to mention the information itself, has left a somewhat sour taste in the collective mouth of the Pro Clubs community.
Picture the scene – Tuesday 14:59 GMT, I (like many others) sat waiting for EA's big reveal for Fifa 12's online game modes.  After 40 minutes of trailers for various games (some better than others) Fifa 12 finally flashed up.
This was it – finally some news on Pro Clubs for the new instalment, or so I thought.  Similar information was displayed in regards to features that have already been released as well as new Head-to-Head Leagues and more a more in-depth Ultimate Team setup – then it ended.
That was it.  No mention of Pro Clubs in the slightest.  Had I not seen a Pro Clubs tab on the in-game menu as it was demo'd, I would have been inclined to think the mode had been removed altogether due its complete omission from the videos and commentary.
In the last few hours and days, information has surfaced in regards to Pro Clubs – so we can at least confirm it exists, which is a start.
However, the focus appears to be on fixing the errors, bugs and glitches that plagued Pro Clubs on Fifa 11 rather than making whole-sale changes and adding new features.  This confuses me greatly – I determine if this is a good or a bad thing.
Pro Clubs on FIFA 11
Pro Clubs on Fifa 11 was both horrific and great fun at the same time.  Full 11v11 matches; a better online community with tournaments, leagues and International games – all through the FVPA and iFVPA were great and took Pro Clubs to another level.
However, server problems, overpowered GK's hammering the A button, 128 rated 10ft Virtual Pro's and trigger glitching destroyed any enjoyment that Clubs brought.
If these problems weren't there, then Pro Clubs would have been pretty damn impressive with its marked improvements on the 2010 instalment.
The painful thing is that ALL of these issues could have been fixed and resolved retrospectively had EA listened to the community (like they do with certain other online game modes).  However, they have instead implemented the changes and fixes for Fifa 12 making Pro Clubs more of an evolution than revolution.
So, I hear you asking – why could this be a bad thing?
Fixes for Pro Clubs
Well, they could have fixed these issues before Christmas – the servers were broken from day one, the 100% Pro Hack was around in Fifa 10 and ultimately led to the 128 Pro Glitch and overpowered GK's were all noticeable up to this point.  Had they done this then the team at EA could have possibly spent their time focusing on introducing something new for Pro Clubs than just resolving issues that really should have been fixed 6-8 months ago.
On to FIFA 12
I now find myself awaiting the release Fifa 12 with some trepidation.  I'm intrigued to see how the new Tactical Defending, Precision Dribbling and Impact Engine systems work – but I'm also concerned that if any problems persist with Pro Clubs or new ones materialise in their place – I may lose all interest completely.
So, I sit with wavering hope that Pro Clubs will be an improvement from 2011 and that if any problems do arise – EA act swiftly to resolve them before myself and countless others decide to throw in the towel.