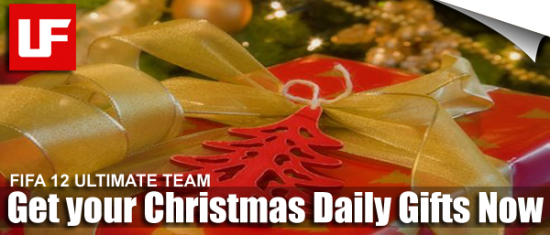 'Tis the season to be jolly and EASPORTS are certainly contributing to our seasonal jolliness by dishing out free festive FIFA 12 Ultimate Team Daily Gifts.
It's not often you get something for nothing these days but over the festive period when you log onto the Ultimate Team Web App you'll be greeted with a free daily gift.
Examples of the Daily Gifts include:
Mini Packs
Coins
Bid Tokens
And much more…
If that's not enough to warm your chestnuts then why not make some coins whilst your there.
[EDIT: The Ultimate Team Daily Gifts finish on Monday 12th December so get in quick!!!]
[>>>EDIT 2: The Christmas Ultimate Team Daily Gifts are BACK!!!<<<]
Make sure you log onto the Ultimate Team Web App today to claim your gift.  I got a Mini Silver Pack today.  What did you get?
Please take a few minutes to complete this Christmas FIFA Community Survey from EA SPORTS. It's your chance to make a difference in the community and it only takes a few minutes!  (Don't forget to fill in your favourite *ahem* community site…)