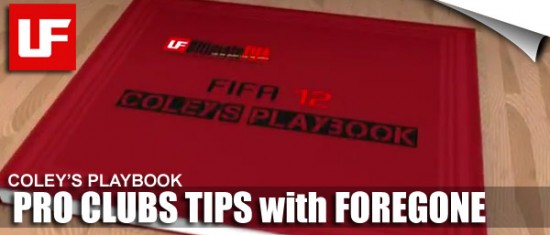 Welcome to the first in the series of Coley's Playbook.  A series that's going to run throughout FIFA 12 giving gameplay tips and tutorials from some of the best players and Pro Clubs on FIFA 12.
Whilst everyone's still finding their feet on FIFA 12 I thought I'd bring you some of the main techniques that Forgone used to propel them to the NUMBER ONE in the World on Xbox.
Check out Foregone's YouTube Channel.
I've specifically picked out the tips that will benefit Pro Clubs if they adopt them in FIFA 12.
These main techniques are:
– High Pressure Defending
– Set Pieces
– Attacker Positioning
– Attacking Techniques
Apologies for the quality of the footage – I couldn't get Foregone gameplay in HD but I wanted to bring it to you anyway purely because of how effective their style of play is.
Apologies also for my droll commentary and well done if you made it right to the end! – it's been a tiresome week for me but I'll make sure I try to pick it up next time 😉
Hopefully your Pro Club will benefit from these techniques – if you think it will then give us a like. 😉
Next up I'm going to take a look at a FIFA 12 Head to Head Seasons match (in HD!) from one of Ireland's top players so make sure you subscribe for that!
Remember to join in the debate:
SHOULD CLUBS BE MADE TO PLAY WITH AN ANY???