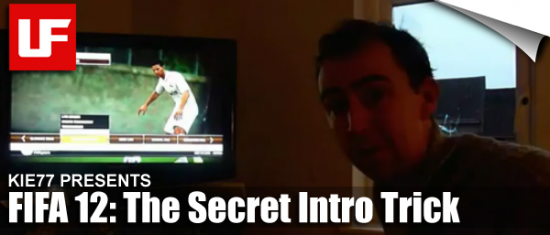 Check out this fantastic, must watch FIFA 12 video from editor extraordinaire Kie77 as he discovers a new FIFA intro trick!
A few weeks ago we brought you one of the most original FIFA video's we'd seen in a long time, FIFA 12 – A Cheeky Penalty Cheat and soon after Kie77 was kind enough to share with us the making of the video including how to make a cool Xbox achievement.
He's back again with another epically unique video entitled FIFA 12: The Secret Intro Trick that is definitely worth 49 seconds of your time!
He may be a new kid on the block in the FIFA scene but Kie77's a video veteran and is already getting some great feedback from our fantastic community.  We're all looking forward to what he has in store for us next – whether it's FIFA related or not you can guarantee it'll be imaginative, original and extremely entertaining.
Don't forget to subscribe to Kie77's YouTube Channel to make sure you don't miss out!
(Oh, and make sure you drop the video a Like for his neighbour in the background! ;))