BlackBerry and Multi-gaming team, Team Alpha 7 have joined forces to host a charity FIFA 11 Head to Head Tournament (on the Xbox 360).

BlackBerry have kindly donated a top of the range smartphone, a BlackBerry Torch 9800 as 1st Prize for the Winner.
Team Alpha 7 have chosen Great Ormond Street Children's Charity as their chosen charity and 100% of the proceeds from the tournament will be donated directly to this great cause.
You can find more details about the tournament over a Team Alpha 7 website here.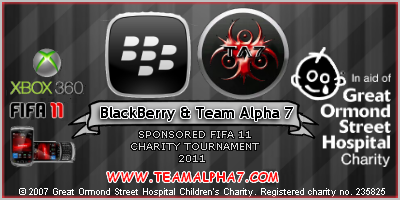 The entry fee is simply a £5.00 donation to the Great Ormond Street Children's Charity.
To enter this fantastic competition and for your chance to win the fantastic prize, submit your application in the 'Ballot Application' section. All applicants will be entered into a ballot out of which 40 applicants will be chosen at random to participate in the tournament, the ballot results will be announced on Friday 10th June 2011 22:00.
Successful applicants will then have 1 week up to the 17th of June 2011, 22:00 to submit thier donation of £5.00 to the Great Ormond St Trust via http://www.justgiving.com/TEAMALPHA7
Once all 40 donations have been verified the tournament will begin on Sunday 19th of June 2011.
If you don't fancy entering the tournament you can help Team Alpha 7 reach their target by making a donation to Great Ormond Street Children's Charity here.