To celebrate the relaunch of mySweetpatch.tv, Sweetpatch are hosting FIFA 11 Head2Head tournaments on Xbox 360 and PS3 this Friday 24th November 2010.  After several meetings and hours of head scratching by the guys at Sweetpatch the tournaments were imaginatively titled mySweetpatch.TV FIFA 11 Relaunch Tournament (Xbox 360) and mySweetpatch.TV FIFA 11 Relaunch Tournament (PS3).  Just kidding guys, it does what it says on the tin!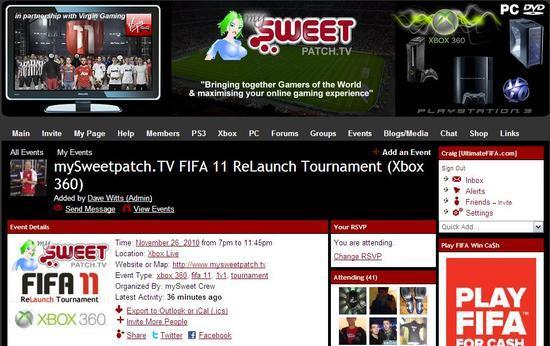 There are some great prizes on offer including £50 vouchers to spend in the Sweetpatch shop, i42 Bring Your Own Computer/Console (BYOC) tickets courtesy of Multiplay UK (worth £105) and my personal favourite, "We Are FIFA 11" Shirts courtesy of EA SPORTS UK.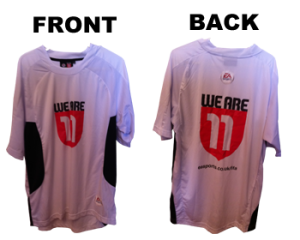 To enter you need to be a member of mySweetpatch.tv's gamer networking site.  Just go to http://mysweetpatch.tv create a profile and then take a look through the events.
If you've not seen mySweetpatch.tv before (where have you been?)  It's a social networking site for all gamers out there whatever platform you're on.  Those of you familiar with Facebook will know the drill.  It's quite similar but without the stalkers and completely designed around you getting the most out of your gaming experience.  It's not just limited to FIFA too.  In the coming month other top titles are being added to the roster.
In the words of the Sweetpatch team themselves,
"This site has been given a new fresh look and we welcome you to our very own social network for all fans of Sweetpatch TV and any online gaming series on all platforms from PS3, Xbox 360 & PC. We have brought together some great features here for you to help you take your FIFA Gaming to the max, but now we aim to bring together the online Gamers of the World, with other popular online games like, Tiger Woods PGA Tour Golf and Call of Duty Black Ops."
I've confirmed my attendance to the Xbox 360 Tournament and will be recording my games for a showcase and review after the event.  (I say games – that's assuming I get past the first round…)
The field's already hotting up so for your chance to win some of these great prizes get yourself over to mySweetpatchTV and get yourself on board.
Any finally, good luck in the tournament on Friday (unless you come up against me and then I hope the batteries run out on your controller! ;))
Let me know what you think of their site and if you're planning to enter.
See you on the pitch,
Craig [UltimateFIFA.com]